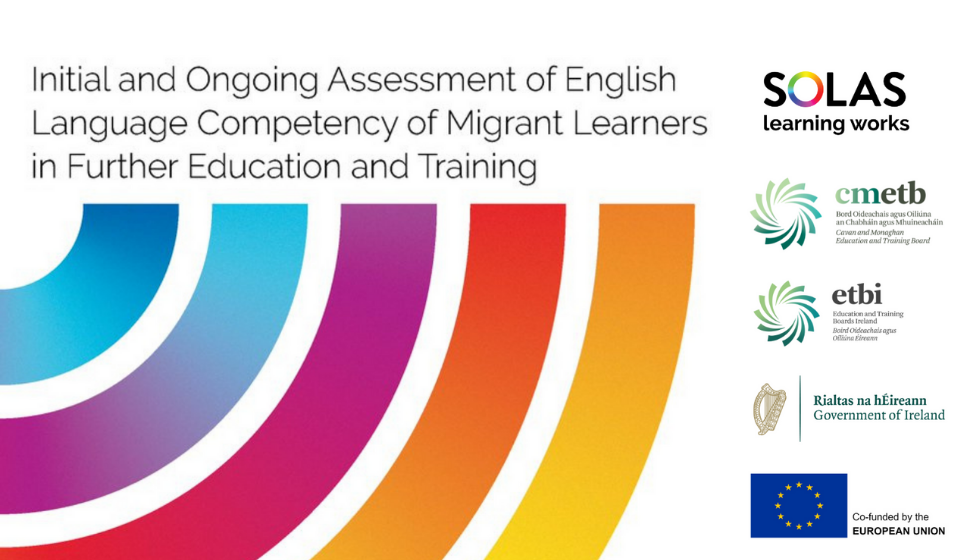 Minister Harris Launches New Resources to Help Migrant Learners Improve Their English Language Skills
Cavan and Monaghan Education and Training Board is delighted to have supported SOLAS in developing the Initial and Ongoing Assessment of English Language Competency of Migrant Learners in Further Education and Training– Research Report, Guidelines and Toolkit.  A timely and useful resource for Education and Training Boards
Chief Executive of Cavan and Monaghan Education and Training Board, Mr. John Kearney warmly welcomed the launch, outlining that:
"The guidelines and toolkit are the culmination of an extensive investigation into what we understand the provision of English for Speakers of Other Languages (ESOL) to be and the pivotal role that it plays in modern Irish society. These resources also strive to enhance the role and importance of the provision of English for Speakers of Other Languages (ESOL) plays in learners' lives and how education can truly empower learners, families, and communities. This positioning of the sector in thousands of communities nationally will be vital if we are to deliver upon the Adult Literacy for Life Ten Year Plan as the power of the local, the familiar and word of mouth promotion will be intrinsic to realising its ambition."
The toolkit and guidelines are available to access on the SOLAS Website.
Minister for Further and Higher Education, Research, Innovation and Science, Simon Harris has today (Friday December 10th 2021) launched new resources to help migrant learners improve their English language skills.
Marking International Human Rights Day, the Minister published new guidelines and toolkits to assist migrant learners to progress through further education.
The suite of resources was commissioned by SOLAS and developed by Cavan and Monaghan Education and Training Board (CMETB) on behalf of SOLAS and Education and Training Boards Ireland (ETBI).
Speaking today, Minister Harris said:
"Those who have come to Ireland and chosen to make their home here have made a huge contribution to our society. Not only do our migrant communities contribute to our economy, most importantly, they enrich our culture and provide vibrancy and diversity to Irish life. It is incumbent, therefore, on all of us however to ensure we take all the steps we can to make it easier for migrants to adjust to life in Ireland and to be able to participate in our society in the most fulfilling way. What is clear is that competence in English language, along with strong literacy and numeracy, is a necessary foundation for development and success in life, work and lifelong learning in Ireland."
"Our Further Education and Training sector aims to drive not only Ireland's economic success, but also to advance social cohesion and inclusion. Every individual must have a path to future that they want, through the means that best suit them. Investment made by government in FET is an investment in our country's future. The recently published strategy on Literacy, Numeracy and Digital Literacy,  Adult Literacy for Life 'commits to using every resource available to ensure support is easily, and locally accessible to everyone who needs it".
The guidelines, toolkit and resources will allow for a more responsive, flexible and meaningful approach to initial and ongoing assessment. This work supports the Department's aims and aligns with the Further Education and Training Strategy 2020 – 2024 and its strategic pillars: building skills, fostering inclusion and facilitating pathways.
Minister Harris continued:
"I know that the FET sector is fully committed to building inclusive teaching and learning environments. All actions and practices embrace and promote diversity and build a sense of belonging for all in every interaction, in every lesson and in every classroom or teaching and learning place. I want to thank SOLAS, ETBI and CMETB for their leadership on this issue."
Commenting on the publication of the resources, Andrew Brownlee, CEO, SOLAS said:
"These guidelines will be essential assets for those working in the sector and those learning English. In addition, there will be a suite of resources that will support tutors, co-ordinators and managers across the Further Education (FET) Sector to facilitate continued good practice in the initial and ongoing assessment of the English language competency of learners. Both the guidelines and toolkit reflect the knowledge and valuable inputs of FET practitioners and learners.
"I would like to complement all those involved in the development of this suite of resources. These new resources are just part of a much wider response to these needs but are important components since they address a learner's interaction with an ETB from pre-entry stage right through their initial participation on relevant courses, as well as their progression to wider FET programmes".
Welcoming the guidelines and toolkit, Paddy Lavelle, General Secretary of Education & Training Boards Ireland (ETBI) said:
"This is a really great piece of research and shows our commitment in Education & Training Boards (ETBs) to active inclusion. It is so important that barriers to inclusion are taken down to enable all our people with their diversity of ability and language participate fully in community life. English Language skills are essential to this participation. This initiative provides the sector with a practical assessment system and a suite of good practice resources for tutors, coordinators, and mangers to utilise. Ensuring its widespread use across ESOL literacy and numeracy provision will help support migrant learners to achieve their goals, maintain and further develop their skills and grow in confidence."