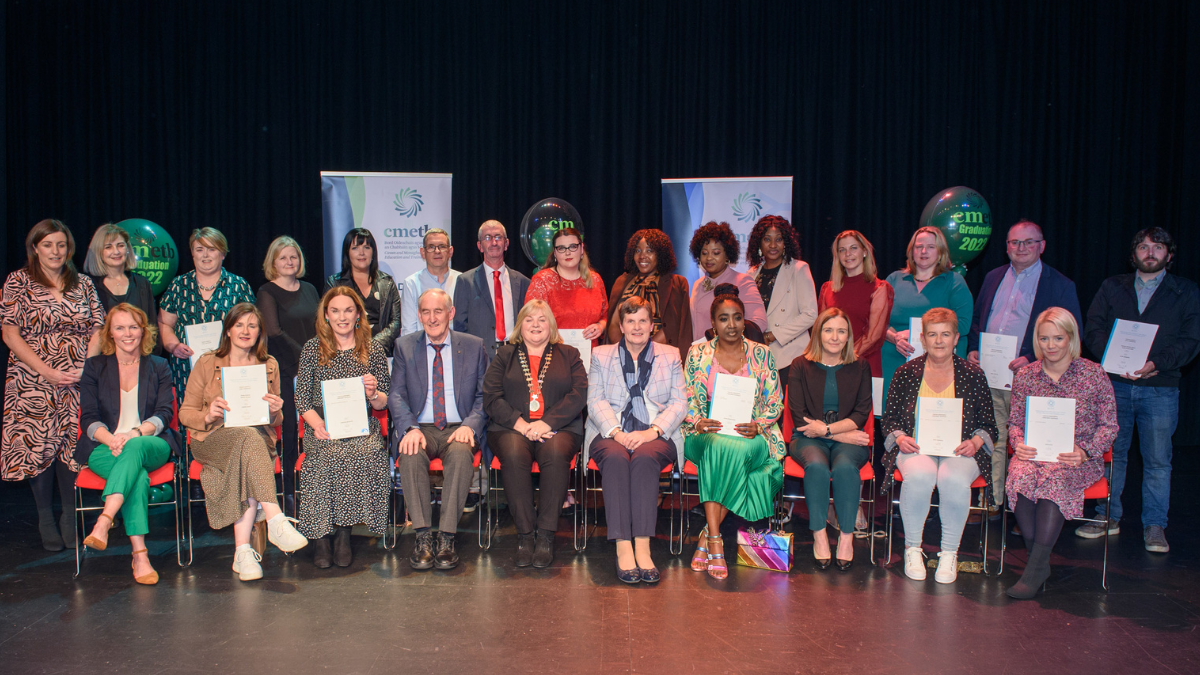 CMETB celebrates Adult Learning in County Monaghan
CMETB Community Education and Adult Literacy Graduation took place in the Garage Theatre in Monaghan's Education Campus on Thursday the 04th of October.
Deirdre Byrne, Adult Education Officer with CMETB, welcomed everyone and explained how delighted she was to have all learners back for the first Graduation since 2019.
Cllr Carmel Brady, Chair of the CMETB Board congratulated the many students who were in attendance to receive Levels 2, 3, 4, 5 and 6 Certificates in subject areas such as Healthcare, Gardening, ESOL, Literacy and Numeracy, Bookkeeping, Construction, Childcare, Cookery and Computers. Joe Mc Grath, Chair of the CMETB FET Board highlighted how in excess of 5000 learners annually participate in the Adult and Community Education accredited programmes throughout the county. Dr Fiona Mc Grath, CE CMETB, acknowledged the wonderful work done by co-ordinators, the guidance service and tutors throughout the county in the delivery of adult education courses. She thanked the families of the learners who continued to support them on their learning journey and she encouraged learners to continue this journey with CMETB.
Declan O' Neill gave an empowering speech explaining how he came to the CMETB Literacy service to improve his reading and writing skills. His love of history was subsequently allowed to develop as he was now able to find and read books in the area. His classes with the ETB have helped him tackle the difficulties his dyslexia have caused. Lauren Mc Nally also spoke and explained how for her full-time education was not the right route. She had visited the Guidance Service to explore what other options would be available and came to the Adult Education Service to complete part-time childcare. She has subsequently completed her Level 5 and Level 6 and is indeed completing her degree at the present time. She has also worked in childcare while studying and explained how she never thought this would be possible for her. She encouraged everyone to explore all opportunities, that there is something to suit everyone but you simply need to find the right path for you.
Deirdre Byrne spoke about the contribution both Angela Mc Crossan and Bernadette Connolly have made to the Adult Education Services team and to learners throughout the county. Both staff members were presented with bouquets of flowers to celebrate their forthcoming retirements.
Students were then presented with certificates by Joe Mc Grath, and Cllr Brady. Learners, tutors and guests alike then enjoyed a catch up with one another over some refreshments. We, in the CMETB Adult Education Department, would like to sincerely congratulate all learners on their success and wish them the best for their future. If you are interested in hearing more about what the adult education service can provide, please call 047 71914 or call into the CMETB Office in Dún Mhuire, Mullaghmonaghan, Clones, Monaghan.