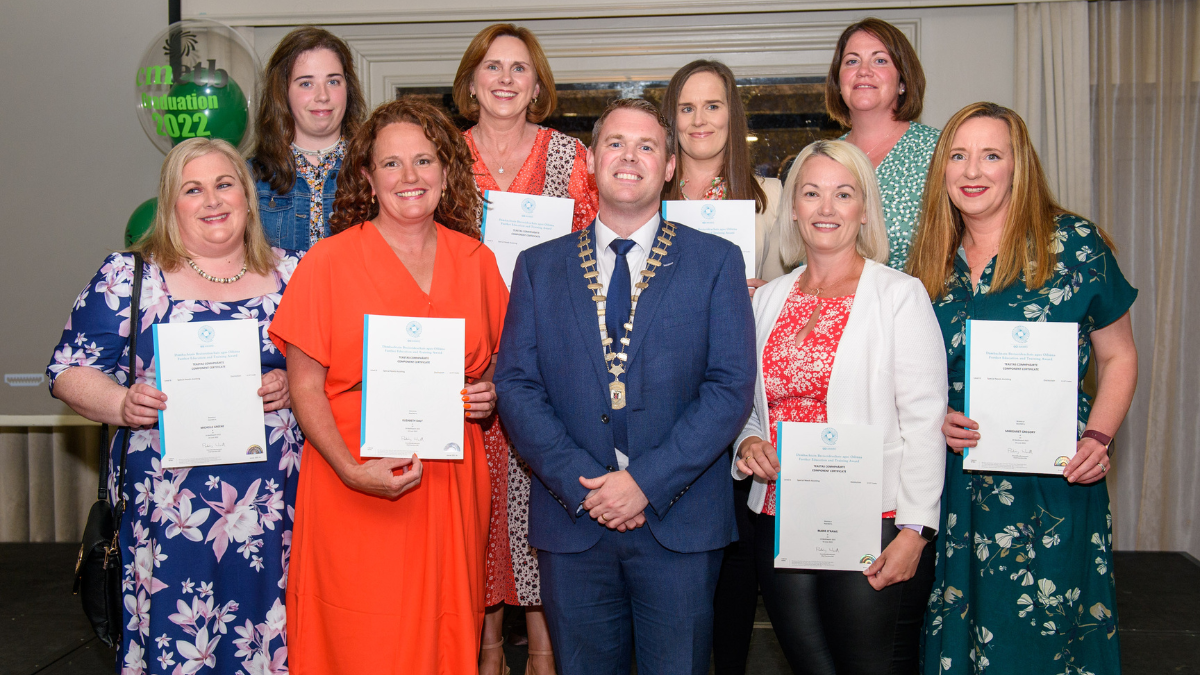 CMETB host Awards Ceremony for Training Services – Evening Courses
The inaugural Awards Ceremony for Training Services Evening Courses at Cavan and Monaghan Education and Training Board (CMETB) was held on Thursday 25th August 2022 in the Errigal Hotel, Cootehill.
Over 180 guests attended the event with 110 graduates receiving their certificate of achievement in a range of subject areas such as Bookkeeping, Digital Marketing, Project Management, Training & Development, Palliative Care, Employment Law, Human Resource Management, Payroll and Special Needs Assisting.
The learners completed their courses in Monaghan Institute, Cavan Institute or in the Further Education and Training (FET) Campus in Cavan.
Colm Carthy, (Chairperson, CMETB Board) officially welcomed learners and the invited guests to the event. Uniquely Mr Carthy was able to share his experience as a learner, as recipient of a certificate on the evening, having recently completed a Digital Marketing course at Monaghan Institute.
Dr Fiona McGrath, (Chief Executive, CMETB) congratulated the learners on their accomplishments on receiving their certificates of achievement. Dr McGrath paid tribute to the CMETB tutors, co-ordinators and support staff for their education/professionalism in delivering on the wide range of Evening programmes in the Cavan/Monaghan region".
Sinead McKenna (Training Services Manager, CMETB) said; "Evening provision at CMETB allow learners to come together in a supportive environment and bring a range of skills, knowledge and experience from their life and professions which contributes to a rich learning experience for everyone."
"Doing a course with CMETB offers great opportunities to move into exciting and interesting vocations and careers, or a platform to develop the skills that will allow someone to flourish if they go on to further study in higher education."
Evening provision offers flexible learning options for students where courses are delivered on a part-time basis. It gives learners the opportunity to develop both academically and professionally.
By completing a part-time course, learners can boost their CV and gain a competitive advantage in the workplace by enhancing their knowledge and skills.
If you are interested in completing an evening course with CMETB please visit: www.cmetb.ie/evening-provision
Ends