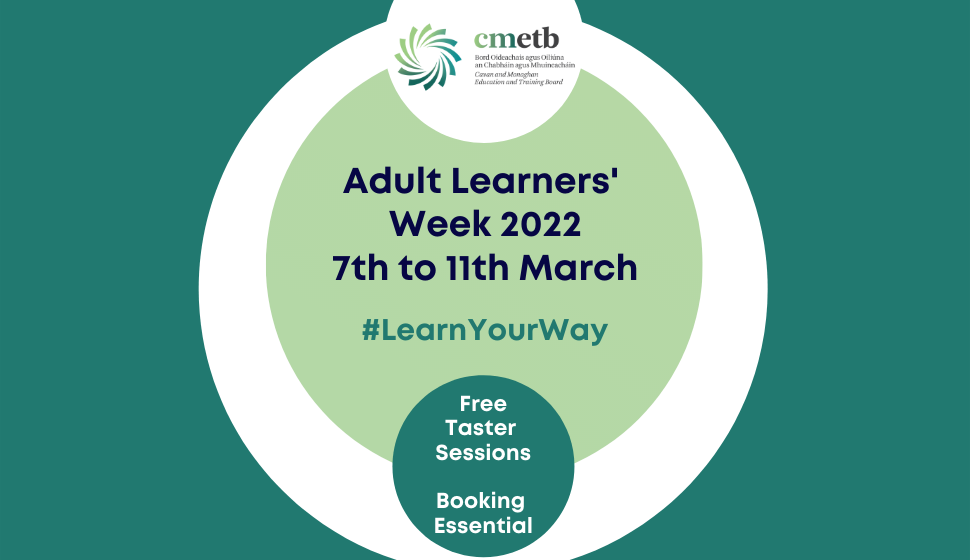 Cavan and Monaghan Education and Training Board- Adult Learners' Week 2022
Cavan and Monaghan Education and Training Board launch a range of new and exciting events and taster sessions to celebrate Adult Learners' Week 2022
This year's annual AONTAS Adult Learners' Festival will take place from 7th – 11th March 2022.
This year's theme is Learn Your Way – prospective learners can learn a range of new skills at their own pace in any of our Adult Education Centres throughout counties Cavan and Monaghan. CMETB Adult Education Services is delighted to invite new and existing learners back to our premises throughout the region to sample a range of classes during the week.  In addition, there are a number of courses available online for those who wish to participate virtually.
Deirdre Byrne, (CMETB Adult Education Officer) said: "We are excited to invite learners back into our centres at a time when people want to re-engage.  While Adult Learners' Week was exceptionally busy online last year, we are finding more and more than people wish to come into our centres to learn new skills, meet new people and engage with others socially once more.  We are acutely aware, however, that for some people online options are more suitable and we continue to offer a range of programmes online.  We believe we have something for everyone therefore through a range of programmes offered in Cavan, in Monaghan and online."
CMETB Adult Education Services is delivering a range of programmes in the areas of Mindfulness, Lego, Sustainable development, Tai-Chi, up-styling your clothes, sign language, Talk on Autism Spectrum Disorders, Japanese Flower Arranging and Gardening, Genealogy, Beauty, Cookery, Arts and Crafts, Coping with Stress, Italian Language, Woodwork, Exercise and managing your life online . There will also be Guidance and Information sessions from the Adult Guidance and Information Service.
Throughout the year, CMETB Adult Education Services runs courses in Childcare, Beauty, Gardening, IT, Cookery, Business, Woodcraft, Literacy, Maths, IT, Construction, Healthcare on a part-time basis.
Join CMETB and get involved from 7th – 11th March 2022.