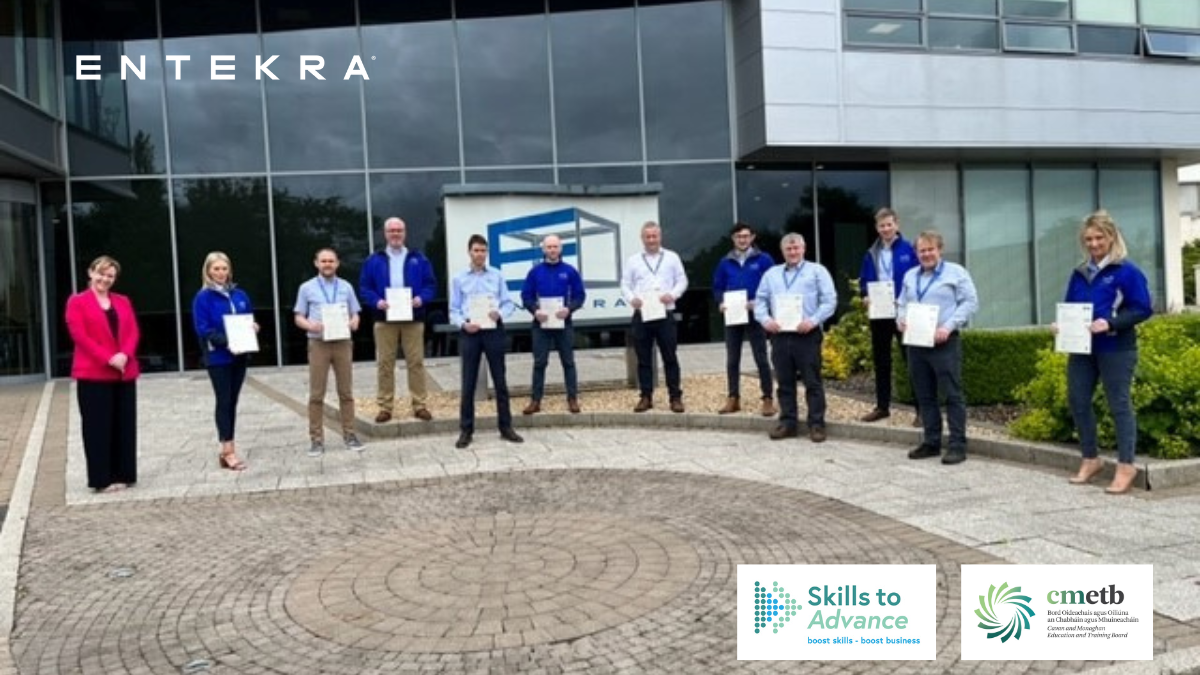 CMETB Employer Services – providing local industry relevant training
The Employer Services unit of Cavan and Monaghan Education and Training board (CMETB) work closely with employers and enterprises to support them in ensuring their businesses can keep apace in an ever-changing labour environment.
CMETB Employer Services can help your business succeed by providing the support needed to develop the workforce through Further Education and Training. The Skills to Advance Initiative provide the means to upskill staff and make your business more competitive. Skills to Advance helps employers identify skills needs and invest in their workforce by providing subsidised education and training to staff.
Local Monaghan employer ENTEKRA know the importance of developing their workforce and have availed of numerous courses for their employees. Recently eleven employees successfully completed the City and Guilds/ILM Understanding Performance Management course with CMETB. As with all Skills to Advance courses, this programme was tailored to meet the needs of the company and delivered in a timeframe that worked for both the company and the employees.
Speaking about the benefits of this training, Ciara Larmer, ENTEKRA Training and Development Manager said; "The facilitation of these funded courses to meet industry needs are invaluable to ENTEKRA in continuing knowledge, skill development and growth of our employees within key areas such as Performance Management. We look forward to continuing working with CMETB Employer Services in advancing and upskilling our employees."
The course which was highly subsidised under the Skills to Advance initiative, offered an online delivery option that gave flexibility for all employees to gain a qualification and the opportunity to build on credits to achieve an overall Certificate or Diploma in Leadership and Management.
The Skills to Advance initiative will have an important role in aiding economic recovery post-pandemic as organisations adjust to new challenges particularly in the areas of digital skills development. CMETB can provide access for employers to an existing suite of high-quality education opportunities through online learning, part-time and evening provision. CMETB can also work with companies to develop flexible bespoke and tailored training solutions for their individual needs.
For more details on CMETB's Skills to Advance provision please contact Eileen Roddy, Workforce Development Officer on 087 7212100, eileenroddy@cmetb.ie or visit: www.cmetb.ie/workforce-development
 Photo Caption LtoR: Eileen Roddy (CMETB, Workforce Development Officer), Catherine O'Neill, Martin Kieran, Ian O'Neill, Paul Taylor, Gerard McArdle, Alan Fannin, Aaron Smith, Noel Franey, Donal Morgan, Graeme Robertson, Ciara Larmer