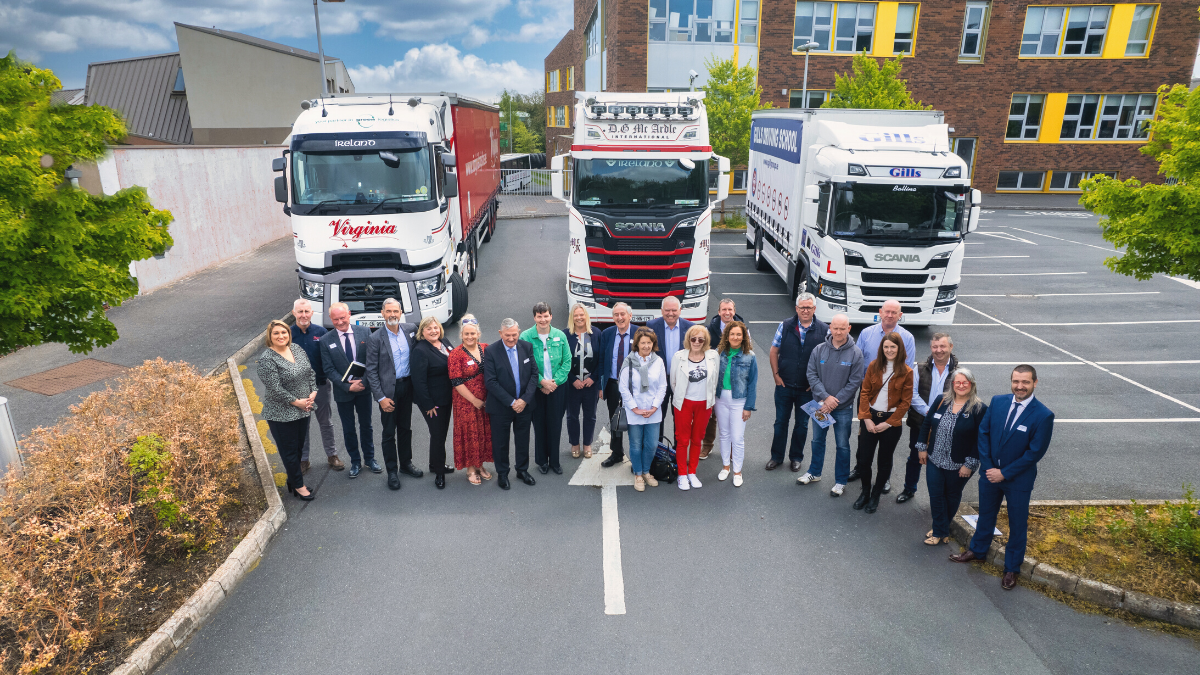 CMETB and IRHA launch a new HGV Professional Driving Traineeship
Cavan and Monaghan Education and Training Board (CMETB) in partnership with The Irish Road Haulage Association (IRHA) recently held a Launch Event in the Garage Theatre, Monaghan for the new HGV Professional Driving Traineeship programme. The new Traineeship, which was created to address the shortage of drivers in the industry, includes free training in Rigid and Artic Lorry driving, Safe Pass, Manual Handling and Forklift Training.
The launch event proved very successful with a large turnout of approx. 135 people attending including prospective learners and local employers. The Training Services team within CMETB facilitated a roundtable discussion with local employers to gather feedback on how the Traineeship could be run to best suit learners and employers. The large turnout at the event highlights the need for HGV training within the industry, to address a shortage of an estimated 4,000 HGV drivers across the country.  Speakers at the event included; Sinead Mc Kenna, (Training Services Manager, CMETB), Dr Fiona McGrath (Chief Executive, CMETB), Mr Joe McGrath (Chairperson of CMETB FET Board), Mr Paul Jackman (Vice Chairperson of Irish Road Hauliers Association), Ciaran Rosney (Past Learner) and Mr Tiernan Gill (The Gill Group – Instructor).  The Gill Group, Virginia Logistics and DG McArdle provided lorries on the day of the launch which were on display on the Education campus outside the Garage Theatre.
Paul Jackman, (Vice Chairperson, IRHA) said; "The Irish Road Haulage Association is delighted to have been involved in this very positive initiative and outcome for the transport industry. Counties Cavan and Monaghan represent a stronghold for the transport industry, one could only be encouraged for its future by the success of the event and the support being offered by CMETB in helping to ensure this continues."
Dr Fiona McGrath, (Chief Executive, CMETB) commented: "We are delighted with the turnout for the launch of the HGV Professional Driver Traineeship – it shows there is high demand for training opportunities in the transport sector. CMETB looks forward to working with employers and learners into the future to provide training and upskilling opportunities within this sector to mitigate the skills gaps and many challenges the industry is faced with."
Noel Mooney, (Manager of Supply Chain, Logistics & Procurement Centre of Excellence, CMETB) said; "It was exciting to see the interest in the successful launch of the HGV Professional Driver Traineeship both from employers and learners. It shows that the Supply Chain, Logistics and Procurement Centre of Excellence has been set up at an ideal time where Industry is facing many challenges. Based on feedback from prospective learners at Saturday's event, CMETB are currently exploring options into offering the HGV training on a part-time basis to meet learner needs."
If you are interested in finding out more about this full-time, fully funded HGV Professional Driver Traineeship call Michelle (CMETB Training Recruitment Officer) on 087 6793462 or email training@cmetb.ie. CMETB Training Programmes are co-funded by the Government of Ireland and the European Union