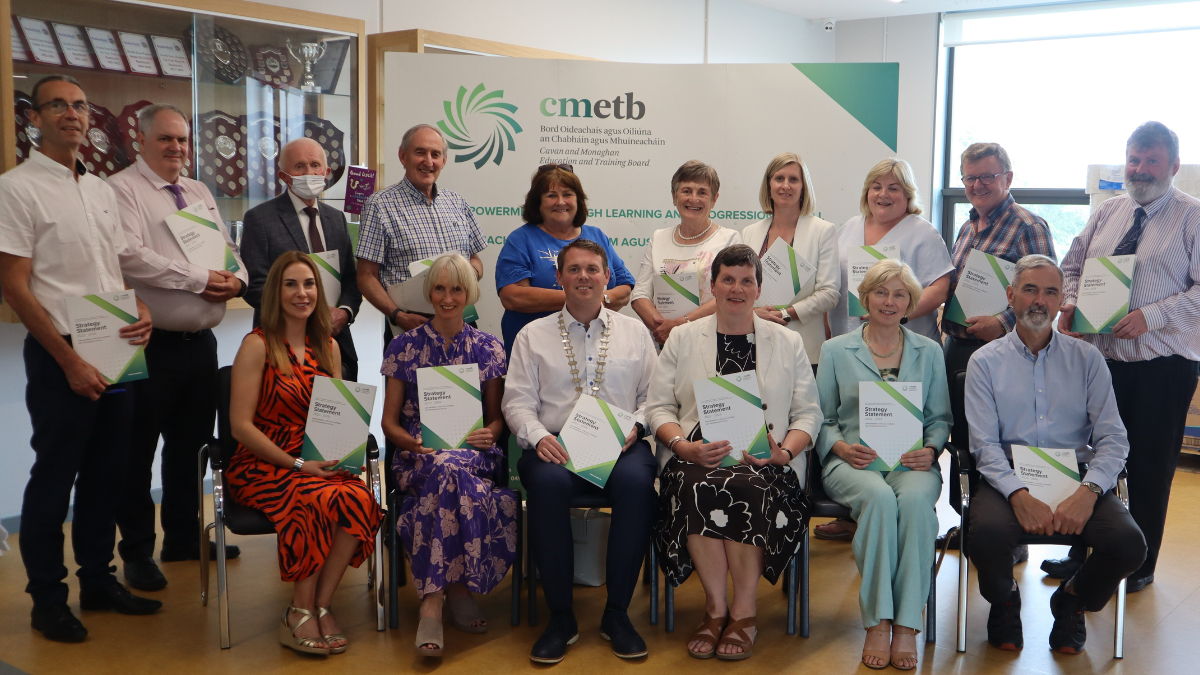 CMETB launch new Strategy Statement
Cavan and Monaghan Education and Training Board (CMETB) has launched its Strategy Statement for 2022-2026.  The new strategy sets out the ETB's path over the next five years 'to lead and deliver excellence in education and training for all'.
As the state authority for education and training in counties Cavan and Monaghan, CMETB has grown as a key stakeholder in the region for the provision of a broad range of education and training. With 11 schools, two Further Education and Training (FET) colleges (Monaghan Institute and Cavan Institute), the FET Campus in Cavan, the Garage Theatre, Tanagh Outdoor Education and Training Centre and numerous other education/training services across Cavan and Monaghan under its remit, CMETB is one of the largest employers in the region, with a total staff of approximately 1,373.
The Strategy Statement highlights CMETB's significant role in the region in supporting all stakeholders – from learners to employers – in responding to the education and training needs of our local region and economy. The Strategy is built around four key strategic goals –
Teaching, Learning and Engagement;
Wider CMETB Services;
Our People – Development; Support and Wellbeing;
Organisation Support and Development.
Speaking at the launch of the new Strategy, Cavan and Monaghan ETB Chairperson, Cllr Colm Carthy said, "This new Strategy Statement for CMETB is comprehensive and forward thinking. The implementation of the Strategy will inform the ETB's work over the next five years which will be monitored by the Board of CMETB. With the strategy in place, I look forward in confidence to seeing the great work and positive impact CMETB will have in communities across our region."
CMETB Chief Executive Dr Fiona McGrath said; "The ETB's vision is 'empowerment through learning and progression for all.' The development of this Strategy Statement has given stakeholders and staff an opportunity to reflect on where we have come from and to identify the vision, mission, values, and priorities which define the future path for the organisation. We are privileged to have a talented and professional staff within CMETB who are committed to delivering our services to our stakeholders and communities."
The Strategy Statement can be read on the Publications & Resources section of CMETB's website at: www.cmetb.ie/publications-and-resources/
PICTURED: Back row L-R:  Cllr Adian Campbell, Micháel Martin, Cllr Sean Smith, Joe McGrath, Cllr Patricia Walsh, Cllr Madeleine Argue, Amanda Taylor, Cllr Carmel Brady,  Sean Fegan, Cllr Brendan Fay
Front Row L-R:  April Anna Barker, Dr Linda Pinkster, Cllr Colm Carthy, Dr Fiona McGrath, Berni Power, Cllr Sean Conlon