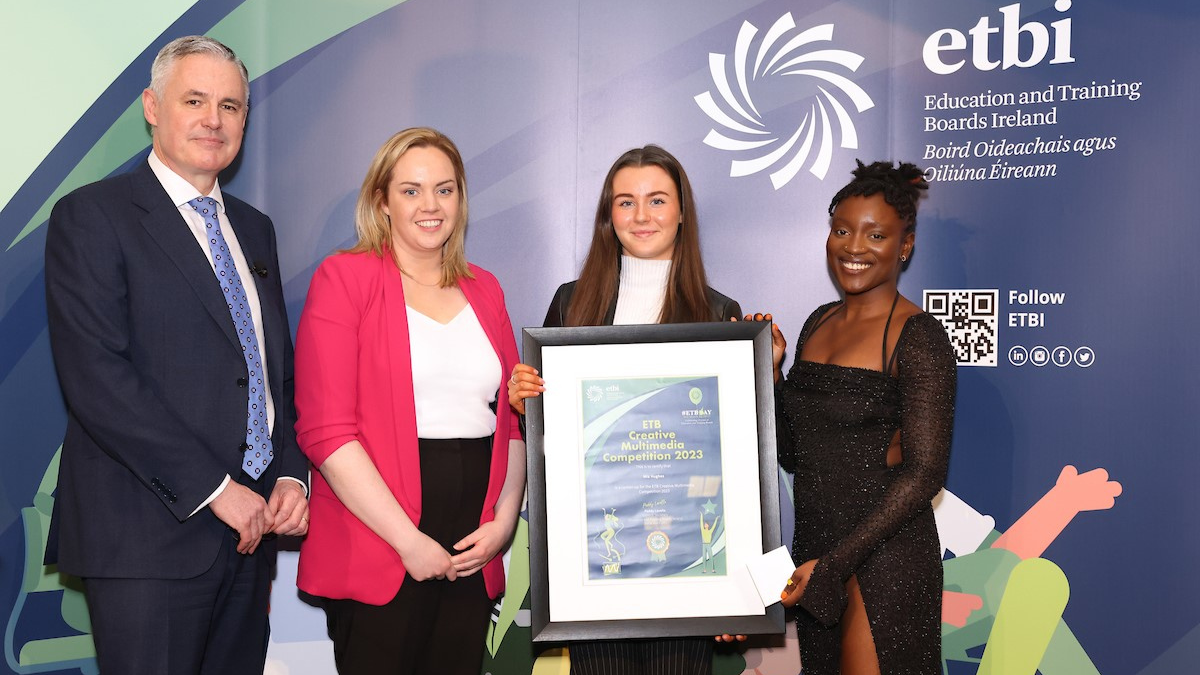 ETB Excellence Awards
CMETB had 7 projects shortlisted for the ETB Excellence Awards which celebrate Excellence across Education and Training within the ETB sector nationally. The award ceremony took place on Thursday 2nd March in Croke Park with awards presented by ETB Heroes and special guest RTE newscaster Ray Kennedy.
Congratulations to the shortlisted projects from across CMETB with representation from Schools, Further Education and Training (FET), Youth Services and Organisation Support and Development (OSD).
CMETB Shortlisted entries included:
Learner Creative Award – Mia Hughes (Learner, Cavan Institute)
Mia submitted a piece of artwork to the 'My ETB' creative multimedia learner competition. Learners were invited to submit a video photograph, artwork or poem about "My ETB" school/ college/centre.
ETB Hero Award – Sascha Cumiskey (Teacher- Largy College)
Ms. Cumiskey was shortlisted for an ETB Hero award for her work at Largy College as a key figure in the promotion of respect, human rights and justice for all in the school and also in the wider community. Ms Cumiskey has been pivotal in growing a strong student voice at Largy College, empowering students to tackle controversial issues such as mental health, sexual health issues and racism. She has become adept at allowing students to flourish, ensuring that our students' talents are accessed fully to produce extraordinary results, rewarded at national and international levels.
Excellence in Equality Award – Cavan Institute
The FET into Schools programme was first introduced in Cavan Institute in September 2021. The programme has been developed by a team of specialist teachers to provide Transition Year students with a taster of Cavan Institute's course offering at Level 5 on the national framework of qualifications. The programme aims to provide equality of opportunity for all students to sample FET and to promote FET as an attractive progression option for school leavers who may wish to undertake a PLC programme, traineeship or an apprenticeship after completing Leaving Certificate, thus offering a potential pathway into higher education or the world of work.
Excellence in Care Award – Castleblayney College
Castleblayney College was shortlisted under Excellence in Care where the school has displayed care about the welfare, wellbeing, and safety of all of the school community at Castleblayney College. It is exemplified in meaningful relationships, connectedness, and empathy, alongside support and solidarity at the school.
Excellence in Gaeloideachas – Coláiste Oiriall
Cuimsíonn sármhaitheas torthaí, eispéiris agus ionchais na ndaoine atá i gceist. Tá bunluachanna an chúraim, an mheasa, an phobail agus an chomhionannais mar bhonn agus mar thaca aige. Oscailte do gach scoil ETB a chuireann oideachas ar fáil trí mheán na Gaeilge. Excellence in Gaeloideachas includes the results, experiences and expectations of those involved underpinned by the core values of care, respect, community and equality. This category was open to all ETB schools that provide education through the medium of Irish.
Excellence in Youth Services Award – CMETB Youth Services
Planet Youth project – which aims to improve health and life outcomes for young people. This five-year programme has been initiated and developed by an Implementation Committee led by CMETB Youth Services. Some 2,000 post Junior-Cycle students across every second-level school and Youthreach Centre throughout Cavan and Monaghan were invited to participate in the Planet Youth survey and the results contained within these county reports are the first of their kind in both counties and will be used to shape local policies in the future.
Excellence in Organisation Support & Development Award – CMETB OSD
The Equality, Diversity and Inclusion (EDI) and Accessibility Initiative in CMETB was initiated in the summer of 2022 between CMETB Compliance and CMETB Communication departments under the OSD Directorate. The aim of this initiative was firstly to comply with Equality and Human Rights Public Sector Duty obligations and the EU Directive on Web Accessibility, but also to enhance awareness among ETB administrative staff of equality and accessibility to CMETB services.
CMETB had two winners on the day:
Mia Hughes (Cavan Institute learner) was runner up in the Learner Creative Award category (pictured above -right)
Coláiste Oiriall were runner up in the Excellence in Gaeloideachas category (Pictured above – left)
Congratulations/Comhghairdeas le gach duine a ghlac páirt ann