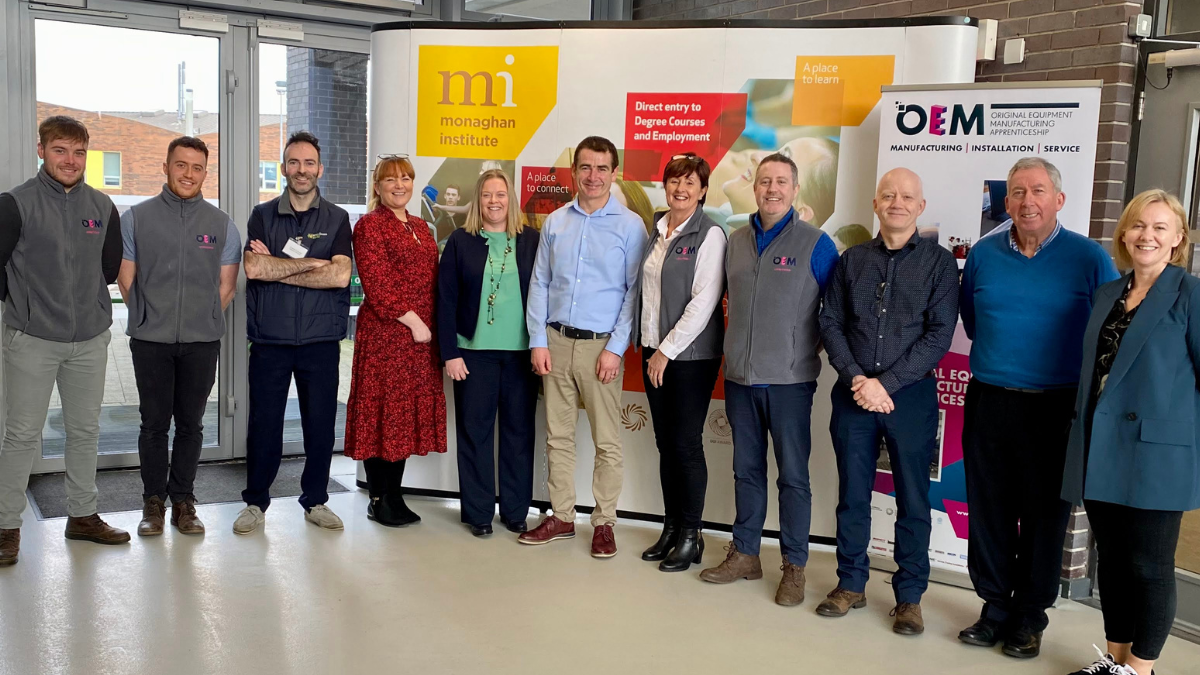 OEM Engineering Apprenticeship partner with Irish Rail
The OEM Engineering Apprenticeship have partnered with Irish Rail to offer the Apprenticeship programme to train prospective apprentices in the area of OEM engineering.
The OEM Engineering Apprenticeship is managed nationally by Cavan and Monaghan Education and Training Board (CMETB).
Irish Rail are the state-owned operator of the national railway network of Ireland and are one of the latest companies to partner with the OEM Engineering Apprenticeship to date. The OEM Engineering Apprenticeship covers a variety of innovative and practical training in engineering including Electronics, OEM Practices, Operations Management, Mechatronics, Engineering Drawing, Analytics and Problem Solving, PLCs and Industrial Robotics.
Established in 1987 Irish Rail, a subsidiary of Córas Iompair Éireann (CIÉ), operates all internal InterCity, Commuter, DART and freight railway services in the Republic of Ireland. The company employs approximately 4000 people and carried a total of 35.8m passengers in 2022. Irish Rail already employ approximately 35 apprentices each year in the areas of Heavy Machine Mechanic, Electrician and Fitter.
Irish Rail have launched their 2023 Apprenticeship recruitment campaign and are now accepting applications for the OEM Apprenticeship Programme.
Speaking of the recent partnership, Conor Doolan, Apprenticeship Development Executive with Irish Rail said,
"The railway is a specialised industry and as an organisation the OEM Apprenticeship is ideally suited to our industry as it covers elements of both mechanical and electrical. I had the pleasure of a site visit to Monaghan Institute, where we seen first-hand the fantastic facilities and work being carried out by the OEM team. We will be looking to recruit a minimum of eight OEM Technicians in 2023 with this number increasing in 2024 and so on.
The work that is carried out in both the CME maintenance Depot facilities and in our Telecoms department is ideally suited to the OEM Apprenticeship and we are excited to partner up with both Cavan and Monaghan ETB and Limerick and Clare ETB who offer this apprenticeship.
With the OEM Apprenticeship only being 3 years rather than 4, it means we can produce highly skilled technicians in a shorter duration who can then join our existing workforce in upkeeping the various fleets and departments who are key in delivering the service we provide."
Irish Rail have their own purpose-built training facility with state-of-the-art equipment and tooling to provide their apprentices with cutting edge skills in their chosen trade. Each apprentice is trained to a very high standard and participates both in internal training and external training.  The apprentice is rotated across the Irish Rail network to gain exposure to all elements of the business, ensuring that each apprentice will be afforded the best opportunities to become well-rounded, experienced and valuable employees.
The OEM Engineering Apprenticeship, managed nationally by Cavan and Monaghan Education and Training Board (CMETB), is a three-year QQI Level 6 programme consisting of both on-the job and off-the-job blocks. The programme is suitable for those currently employed in OEM companies, school leavers, career switchers and mature applicants wishing to pursue a career as a qualified OEM Engineering Technician. On-the-job learning takes place within the company and the learner also attends off-the-job education and training on an annual 16-week block release basis at either the Monaghan Institute Campus or Raheen Training Centre in Limerick.
On completion of this programme, the learners will receive a QQI Level 6 Advanced Certificate in OEM Engineering and will be qualified as OEM Engineering Technicians, a widely sought-after skill set in the manufacturing, installation, servicing and commissioning sectors, both nationally and globally.
Annamarie Woods, Programme Manager, OEM Apprenticeship said: We are delighted to welcome Irish Rail onto the OEM Engineering Apprenticeship programme. The programme is proving extremely suitable to a diverse range of companies, and now having the national rail service onboard, further reiterates the extent of industries finding this apprenticeship suitable to their needs.
The OEM Engineering Apprenticeship, developed by industry to address the current requirements and the dynamic changing nature of the sector, is constantly reviewed by the programme steering committee to keep this apprenticeship relevant and up to date with emerging trends and technologies. One of our main aims is to ensure that the OEM workforce is not only qualified and skilled but that they remain competitive and future proofed, to ensure adoption of best practice methods and processes.
Irish Rail are a great addition to the programme and are a further endorsement of the relevance and significance of the OEM Apprenticeship in today's every evolving environment."
For more information about the OEM Apprenticeship please visit: www.oemapprenticeship.ie