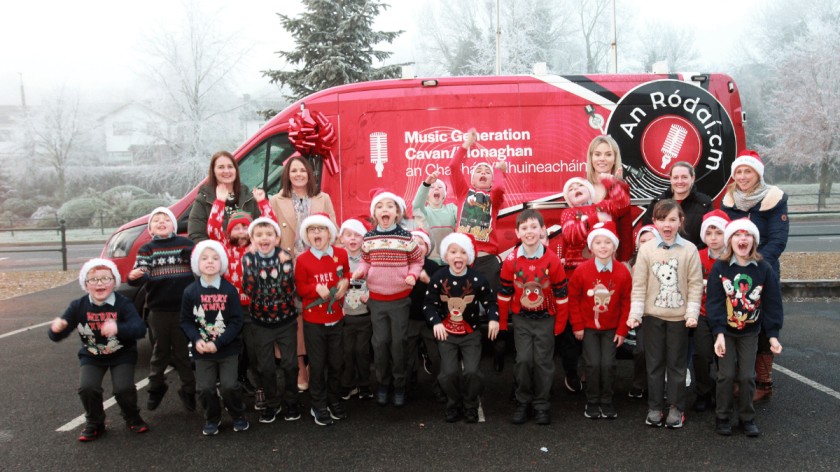 Music Generation Cavan/Monaghan launch a mobile recording studio – An Ródaí.cm
Music Generation Cavan/Monaghan have launched a new mobile recording studio called An Ródaí.cm.
The aim of this new mobile recording studio is to support children and young people to make and learn music in creative, diverse and inclusive ways. This recording studio will enable Music Generation to reach a much wider audience, especially as Cavan and Monaghan are both rural counties.
By creating access to a brand-new state of the art studio, Music Generation Cavan/Monaghan will be able to provide learners the opportunity to record, mix, master and produce their own music just like many of the famous musicians with support from expert technicians. This will offer a great understanding of the processes required which will also help learners decide if they wish to continue this strand of musical creativity into third level education.
The van was recently launched at Cavan Institute by the Music Generation Cavan Monaghan team. Maggie Maguire (Music Development Officer, Music Generation Cavan/Monaghan) said; "Music production has become a massive part of the music industry and it is important for Music Generation Cavan/Monaghan to be able to create a programme that is accessible and inclusive to open up a world of music-making for children and young people who may not otherwise have had the chance to experience it."
"Music Generation Cavan/Monaghan aims to create access to performance music education for children and young people. We believe that making and performing music should be a joyful experience that has the potential to transform children and young people's lives in many possible ways."
The launch of An Ródaí.cm was marked by a special performance from children from Aughadreena National School who joined in the celebrations by performing a selection of Christmas Songs from their Music Generation Vocal Programme under the direction of Music Educator, Rachel Mc Cabe.
An Rodai.cm will also be available for hire with a professional engineer for musicians wishing to record, mix or master their music in a state-of-the-art environment.
Music Generation Cavan/Monaghan is locally managed by Cavan and Monaghan Music Education Partnership, led by Cavan and Monaghan Education and Training Board, with support from Cavan County Council and Monaghan County Council.