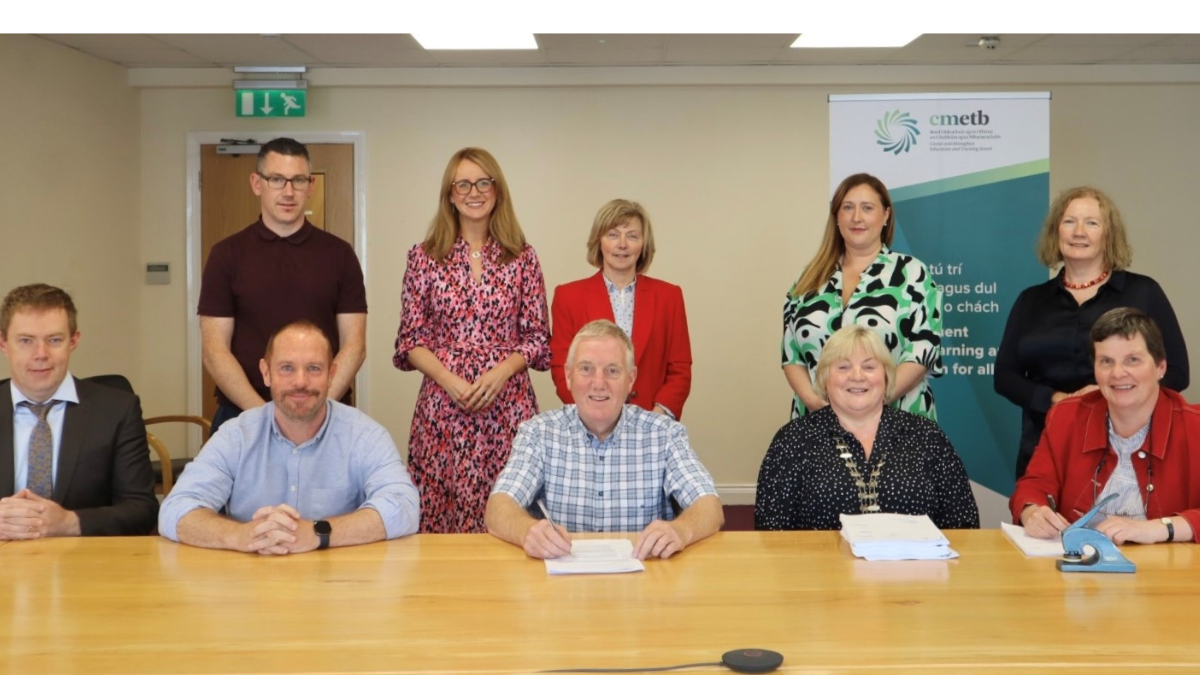 CMETB and McKelvey Construction sign project contracts for Scoil Mhuire, Rockcorry
Progress for Scoil Mhuire as project moves forward
Cavan and Monaghan Education and Training Board (CMETB) and McKelvey Construction officially signed project contracts on Monday 17 July, in the presence of Scoil Mhuire Principal, Mr Donal Quigley and Board of Management representatives, marking a significant milestone for the construction of the new school in Rockcorry.
The partnership between CMETB, McKelvey Construction and the design team outlines the delivery of the long-awaited development at the Rockcorry primary school.
The project consists of the demolition of the existing school building and construction of a five-classroom primary school with a general purpose room, staff room, administration office, multi-purpose room, storage facilities, toilets and library resource room.  The new school will also have a new ballcourt, a junior soft play area and outside tiered seating area.
Donal Quigley, Principal Scoil Mhuire, expressed his delight about the progress, stating,
"As a school community, we as pupils, parents and staff are delighted to get to this stage. Our new school will be a wonderful asset for the people of Rockcorry and Ematris parish and will serve the future generations of primary school students in the area. I would like to thank our Board of Management, headed by Gerry Coyle,for their tireless efforts to bring this project to fruition. A special mention to Cathal Flynn,  whose expertise has been invaluable in guiding us through this process. Finally, a big thank you to everyone in CMETB who have been a pleasure to work with and we look forward to seeing our new premises developing over the next 12 months."
Cathal Flynn,  (Scoil Mhuire Board of Management) said: "'The commencement of the new school construction project by CMETB is great news, for the staff, pupils and for the entire community of Rockcorry. I am delighted to see this project come to fruition and to be part of a school building project that will ensure an exciting future for the generations to come".
Dr Fiona McGrath (Chief Executive, Cavan and Monaghan ETB) said;
"Moving to the next stage of the project is fantastic news for Scoil Mhuire and the community of Rockcorry. As the ETB (Education and Training Board) for the Cavan/Monaghan region, our involvement in this project allows us to work closely with Scoil Mhuire to deliver facilitates to support the excellent teaching and learning taking place at the school. It also aligns with CMETB's ambition of delivering world-class education facilities for the Cavan-Monaghan region. I look forward to seeing the project progress."
The delivery of the building project is entrusted to Cavan and Monaghan Education and Training Board who have significant experience in delivering building projects for schools and educational centres across the region.
The signing of the project contracts reaffirms CMETB's commitment to improving educational infrastructure and learning environments in the region. Following the signing of the project contracts, McKelvey Construction will now commence work on-site at Scoil Mhuire bringing the highly anticipated project to life.
Picture caption L-R:
Back Row L-R: David Toal (McGahon Surveyors), Karen McBride (Head of Corporate Services, CMETB), Berni Power (Director of Organisation Support and Development, CMETB), Sarah Gilsenan (Head of Land and Buildings), Michele Sweeney (Director, Opperman Associates)
Front row L-R: Cathal Flynn (Chairperson, Scoil Mhuire), Donal Quigley (Principal, Scoil Mhuire), Robert McKelvey (McKelvey Construction Ltd), Carmel Brady (Chairperson, CMETB), Fiona McGrath (Chief Executive, CMETB)