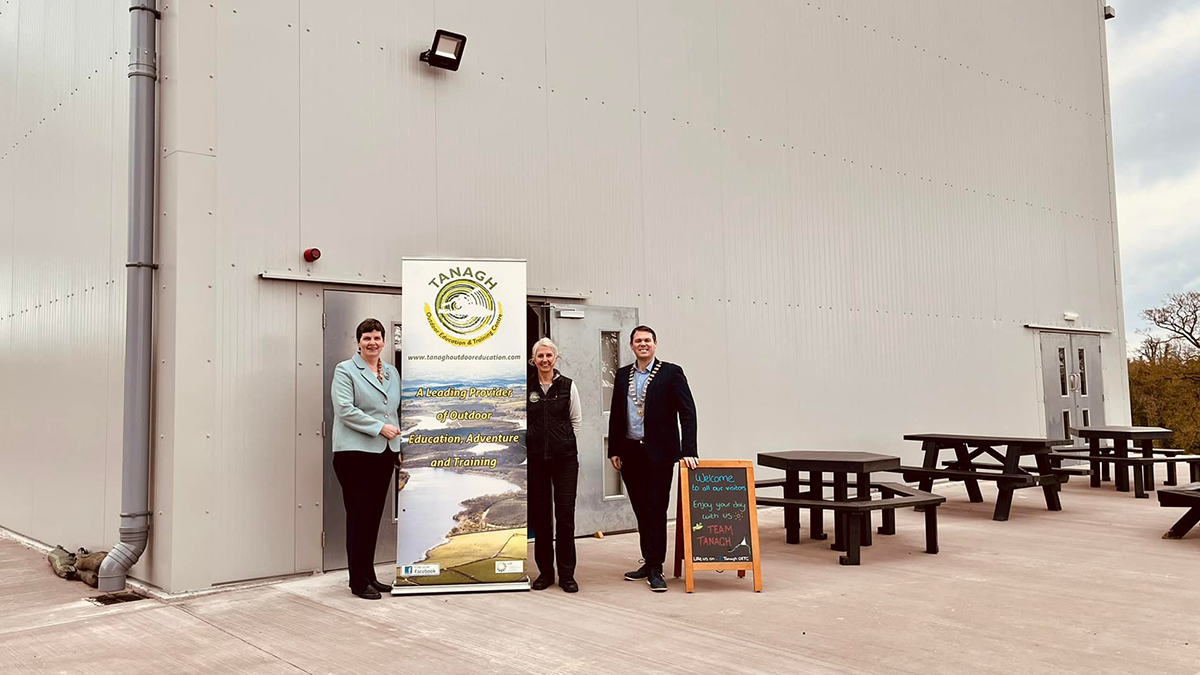 Developments at Tanagh Outdoor Education and Training Centre
Pictured L-R: Dr Fiona McGrath (Chief Executive, CMETB), Michelle Forester (Centre Director, Tanagh Outdoor Education & Training Centre) & Councillor Colm Carthy (Chairperson, CMETB)
There are a number of exciting new developments at Tanagh Outdoor Education and Training Centre, which will greatly enhance the range of activities available on site. A state of the art climbing zone is due to be installed later this month and should be concluded before June of this year. A new archery zone is currently being completed and plans are in place to further develop the site to include a Mountain Bike Skills trail and pump track
Tanagh Outdoor Education and Training Centre is administered by Cavan and Monaghan Education and Training Board (CMETB). Chief Executive of CMETB, Dr. Fiona McGrath and Chair of the Board of the ETB Councilor Colm Carthy recently visited Tanagh to meet with Centre Director Michelle Forester to see the progress on site.
Michelle Forester, Director of Tanagh Outdoor Education and Training Centre said how great it was to see such progress and development at the Centre both in building refurbishments and new activities. The Centre now has a fleet of 32 stand-up paddleboards, 32 mountain bikes and a state of the art climbing tower. She highlighted that since the restrictions ended in February the Centre has been inundated with bookings from Schools, Colleges and Youth Services not just from Ireland but from Europe for a mix of residential and day experiences.
At the core of all the development works and new activities at Tanagh, the Centre ensures that green practices are included in the fundamental planning and operations. All instructing staff operate with a 'leave no trace' policy and the Centre has planted 200 trees to help offset any carbon footprints.
Tanagh Outdoor Education and Training Centre is located in a region of overwhelming beauty, near Rockcorry, County Monaghan on the R188 between Cootehill and Rockcorry. The magic of this region lies in its gentle rolling hills, lakes, meandering rivers through enchanting forests and ever-changing vistas. The Outdoor Centre provides a range of water-based and land-based adventure activities for all.
The Outdoor Education and Training Centre is also promoting and currently enrolling for the Outdoor Instructor Traineeship starting in September 2022. This exciting Traineeship offers participants the skills and expertise to work in Outdoor Adventure Centres across the Country and includes a 10-week work placement. This field has huge scope for job opportunities in the future in addition to progressing into Further and Higher Education courses. The course is free and a training allowance will be paid to those in receipt of a social welfare payment. If you like the outdoors, working with groups and individuals and seeking adventure then a career in Outdoor Activity might be for you.
Discover the Outdoor Instructor Traineeship 
To find out more visit: www.cmetb.ie/traineeships