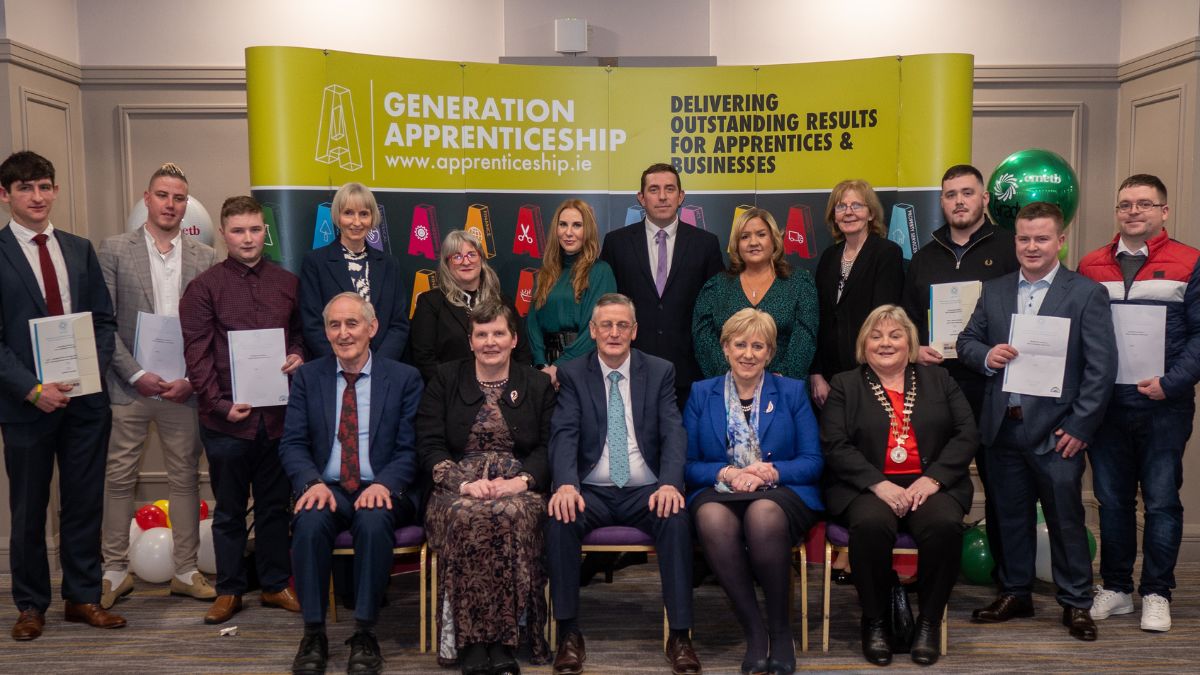 Apprenticeship Graduation for CMETB Apprentices
CMETB and LMETB 2023 National Apprenticeship Graduation  
The National Apprenticeship Awards 2023 for apprentices in Cavan, Monaghan, Louth and Meath were held in the Hillgrove Hotel, Monaghan on Friday 27th January. 
The event was hosted by Cavan and Monaghan Education and Training Board (CMETB) in partnership with Louth and Meath Education and Training Board (LMETB) and presented awards to the graduates of a variety of Craft Apprenticeship programmes.  
In total 739 apprentices were invited to the graduation representing apprentices graduating between 2019 and 2022.   Minister Heather Humphreys TD, Minister for Rural and Community Development and Minister for Social Protection presented the Advanced Craft certificates to the apprentices. 
During her speech, Minister Humphreys commended the apprentices on their dedication in completing their apprenticeship programmes and in learning valuable new skills which contribute greatly to the prosperity of the region and the country. Minister Humphreys also paid tribute to the employers in embracing the apprenticeship model. "Apprentices develop the knowledge skills and expertise required by industry and are a pathway into a great career, and the graduates here today should be immensely proud of the choice they made." 
It was highlighted at the event over 8,400 employers used apprenticeship to help support and grow their businesses in 2022, with over 24,000 apprentices currently completing their training nationally. 
The apprentices graduated from over 20 subject areas including; Electrical, Wood Manufacturing, Vehicle Body Repairs, Stonecutting and Stonemasonry, Carpentry and Joinery, Plumbing, Refrigeration and Air Conditioning, Metal Fabrication, Mechanical Automotive Maintenance Fitter and Electronic Security Systems.  
 Speaking at the event, Dr Fiona McGrath (Chief Executive, CMETB) said:  
"The quality of apprenticeship training in Ireland is extraordinarily high, as is demonstrated by the increasing number of apprentices nationally and the number of businesses embracing the apprenticeship model. The National Apprenticeship Awards is a wonderful showcase of how apprenticeship training can transform the future for apprentices and businesses alike and benefit the economy in our regions." 
Apprenticeships offer an excellent opportunity to gain an internationally recognised qualification, it is delivered through a combination of on-the-job and off-the-job training that allows the apprentices to earn while they learn. 
CMETB offer a range of apprenticeships and support to local employers, for more information please visit: www.cmetb.ie/apprenticeships/  or email apprenticeships@cmetb.ie  Tel: 0494353922