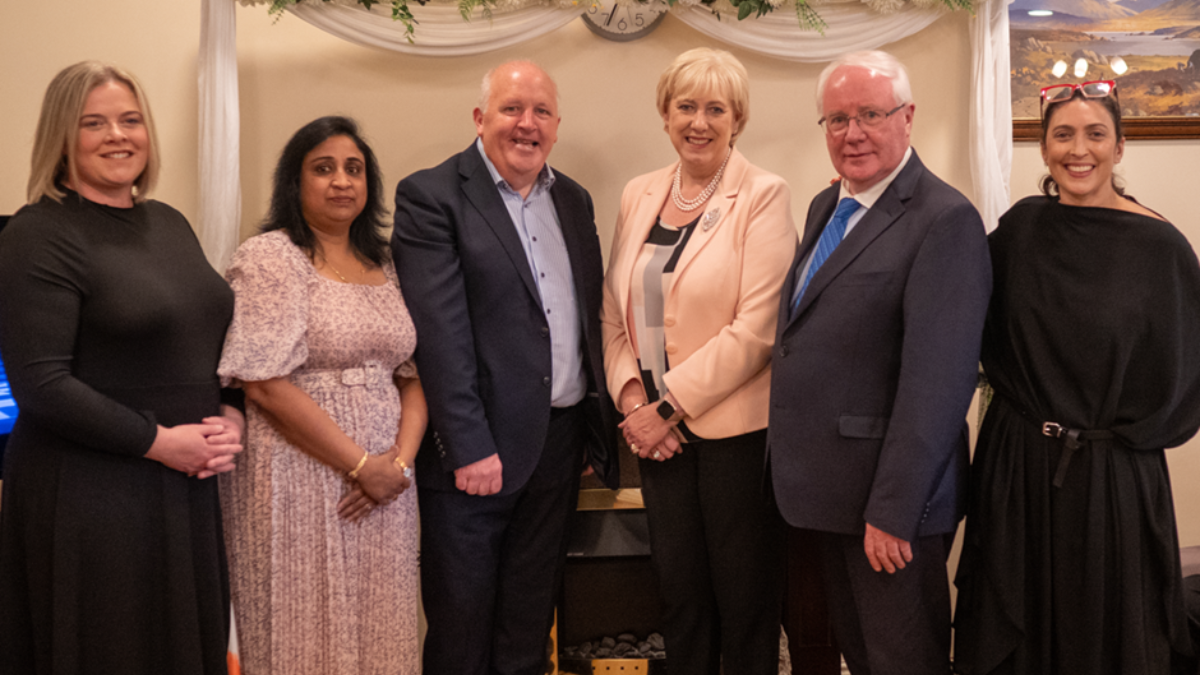 CMETB partner with local Nursing Home to deliver Healthcare Education and Training
Cavan and Monaghan Education and Training Board (CMETB) in partnership with Esker Lodge Nursing Home recently held a Launch Event  highlighting a range of healthcare training programmes for the Cavan and Monaghan area. The event officially launched a new training programme for healthcare professionals to upskill, reskill and advance their career.
CMETB in conjunction with local employers, including Esker Lodge Nursing Home, have collaborated with the aim to address the shortage of skilled healthcare professionals in the region. Skills to Advance and Traineeships were two initiatives used to develop specific healthcare programmes to address the shortage of skilled labour in this industry.
The newly launched Skills to Advance Healthcare programme is a Level 5 QQI Major Award in Healthcare Support. The course is part-time programme over 6 months and is specifically designed for those already employed in a Healthcare setting who wish to upskill, reskill or develop their career by gaining a certification. It is delivered over 2 days a week in Cavan Institute with individuals continuing in their normal employment.  CMETB have just commenced their first programme in June due to complete in December.
For those who are new to healthcare, the Healthcare Traineeship programme is an excellent opportunity for those who have little or no experience in the sector. The Traineeship, which is in its 5th year, is delivered 3 days a week in Cavan Institute and 2 days a week in work placement.  Commencing in September this is a full time 9-month programme for those not working in the industry and wish to gain a Level 5 QQI Major Award in Health Service Skills with 12 weeks valuable work experience across the programme.
The Launch Event proved very successful with a large turnout of people attending including prospective learners, local employers and existing healthcare staff. Esker Lodge Nursing Home staff facilitated 'A day in the life of a Healthcare Worker' which was a great way to involve the residents and for potential students to see into the future as to what the job of a healthcare worker involves.
Heather Humphreys (Minister for Social Protection and Rural and Community Development) officially launched the new training programme.
"I want to commend Esker Lodge and CMETB on this wonderful initiative. What are seeing here is key partners coming together in other to achievement a number of really important objectives. It's about giving opportunities for people already working in the sector to upskill and take on new roles. It's about bringing people who are unemployed or working in other industries into health and social care; It's about giving more choices and avenues to employers to find staff. But above all, what this initiative will do is deliver better outcomes for our elderly citizens and their families."
Speakers at the event included; Minister Humphreys (Minister for Social Protection and Rural and Community Development), Vicky McDwyer (Managing Director, Esker Lodge Nursing Home), Sinead Mc Kenna, (Training Services Manager, CMETB), Binimole Santhosh (Director of Nursing Esker Lodge Nursing Home, Maeve Owens (Traineeship Co-ordinator, Cavan Institute) and Michelle Tilson (Course Recruitment, CMETB)
Vicky McDwyer, (Managing Director, Esker Lodge Nursing Home) said; "Esker Lodge is delighted to be collaborating with CMETB on an exciting new initiative which supports existing team members to develop their careers and enhance their professional development with the Skills to Advance course.
The fully funded course is specifically designed to meet the needs of employers in the healthcare sector, while supporting existing employees to upskill and advance their careers. We are excited about the launch of this new initiative (Skills to Advance Healthcare programme) and want to thank CMETB for their ongoing support to our sector, assisting us with developing a pipeline of new recruits and upskilling existing colleagues."
Sinead McKenna, (Training Services Manager, CMETB) said; "CMETB Employment Services work with employers and enterprises to provide support in adapting to the ever-changing labour environment.
This programme funded under the Skills to Advance Initiative supports employees to further develop and upskill gaining the skills and competencies required for the healthcare sector.  CMETB are delighted to have partnered with a number of Nursing Homes in Cavan and Monaghan who support many of our CMETB Traineeship programmes.
It is evident Esker Lodge and other Nursing Homes invest in their workforce promoting this training initiative.  The shortage of healthcare workers is presenting a considerable challenge for Nursing Homes and CMETB supports this industry providing bespoke training relevant to business needs and flexible to fit around business hours and work schedules."
If you are interested in finding out more about education and training options call Michelle Tilson  (Training Recruitment Officer, CMETB) on 087 6793462 or email training@cmetb.ie
CMETB Training Programmes are co-funded by the Government of Ireland and the European Union.
Picture Caption L-R: Sinead McKenna (Training Services Manager, CMETB), Binimole Santhosh (Director of Nursing, Esker Lodge Nursing Home), Tadhg Daly (Nursing Homes Ireland) Heather Humphreys (Minister for Social Protection and Rural and Community Development) Brendan Smith ( Cavan Monaghan TD), Vicky McDwyer (Owner, Esker Lodge Nursing Home)